Streamline and Rentals United
2. We will contact Streamline on your behalf to set up your account for you.
Your properties have been pulled from Streamline to Rentals United and are now ready to be connected to our Sales Channels. Any editing of the Property information should be done in Streamline. Once you are connected to the sales channels, the property information will be synchronised to the channels. Bookings received via the connected sales channels, will automatically be inserted into Rentals United and Streamline. If you want to add a new property to Rentals United/Sales channels, you need to enable it from Streamline.
Synchronisation Flow
Property info editing/Adding new properties: Streamline ➜ Rentals United ➜ Sales Channel
Reservations/Cancellations: Sales Channels ➜ Rentals United ➜ Streamline
PMS settings - syncing options
If you would like to stop the synchronisation between Streamline and Rentals United for specific property information, please navigate to PMS Settings and deselect the boxes that you wish to update manually in Rentals United and click synchronise. Now you can edit this property information directly in Rentals United in edit properties. Please bear in mind that deselecting will be applicable for all your properties and future changes made directly in your in your PMS will not be reflected in Rentals United.
NOT

 synchronised from Streamline to Rentals United
The greyed-out boxes in the PMS settings are not pulled from Streamline to Rentals United. This means that you need to manually add these features directly in your Rentals United account. Specifically, you need to add the following property information in Rentals United to connect to any channel: 
Cancellation policy - Go to Properties - Advanced Settings - Select all or some properties - Edit Charges and Taxes - Payments - Add Penalty. Click Here to add it now. 
Payment Method - Go to Properties - Edit Properties - Advanced settings - Select all or some properties - Edit Charges and Taxes - Payments
Downpayment - is hard-coded as '

100% of reservation price is charged at the moment of booking'

Floor - Go to Properties - Edit - Step 1 Basic Info
License number (if applicable for your inventory locations) - Go to Properties - Edit - Step 1 Basic Info
Distances to Attractions - Go to Properties - Edit - Step 1 Basic Info
Dynamic data

NOT

synchronised from Streamline
Length of Stay pricing

Extra guest pricing

Changeover days

Length of Stay discounts
Room-level amenities retrieval
Room amenities and bedding configuration are only synchronised when Streamline provides Rentals United with a special property feed. 
Streamline representatives are supposed to ensure that your properties are correctly configured to share your room-level amenities with Rentals United. Bedding configuration is crucial for your properties to be connected to the world's most effective sales channels.
It is best to confirm with Streamline that the feeds are ready when connecting to Rentals United. 
Please note that you may have these feeds enabled at any time after the initial connection is established. They are not required for your properties to show up in Rentals United for the first time.
How Often is Property Info synchronised?
Static Content (e.g. photos and descriptions) = every 24 hours at 1am GMT
Rates = every 30 minutes
Minimum stay = every 25 minutes
Availability = every 20 minutes
Note = you can force a pull of information anytime in PMS settings - syncing settings – click on synchronise
Get Started
Before you can start connecting your properties to our Sales channels, you need to fill out
My Profile

Company Profile

Payment Settings
In the upper right corner of your RU account you will find a drop down menu with My Profile, Company Profile and Payment settings. Please fill out the required fields and Click on Save
For the Payment setting, Click on add Billing Method (if you have not already added this)
Due to security reasons, you will have to validate a certain amount taken from your account
Please select the correct currency (if your card is in EUR, you choose EUR, if it's in GBP, you choose GBP)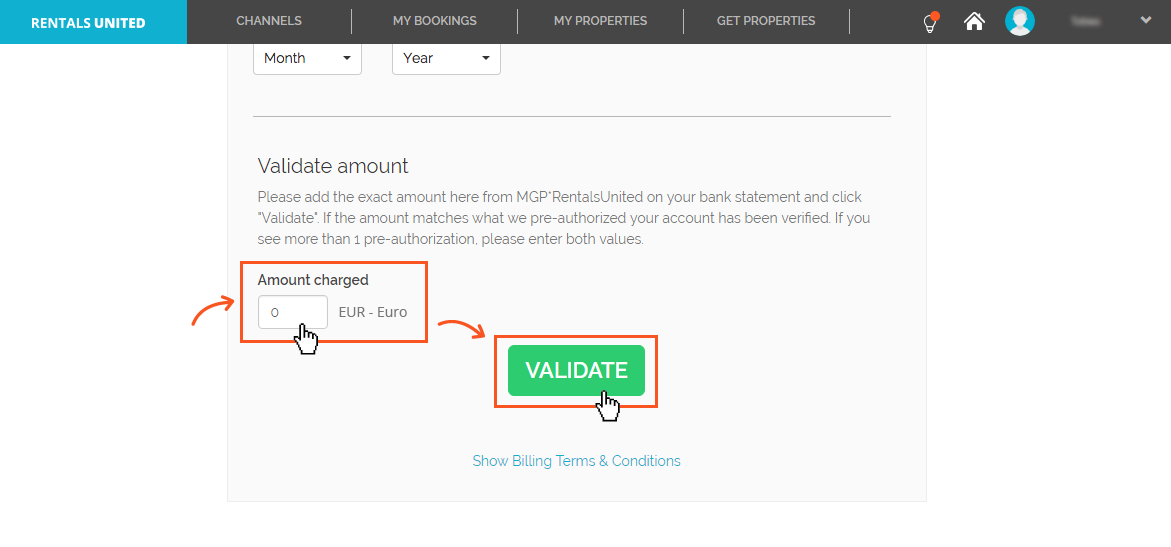 If you have any questions that we did not answer in the Help Centre, please submit your request/issue here