Egluu and Rentals United
Your properties have been created in Rentals United and are now ready to be connected to our Sales Channels. Any editing of the property information should be done in your Rentals United account except rates, availability and minimum stay (changes of those fields made directly in Rentals United will be overwritten in the next sync). Once you are connected to the sales channels, the property information will also automatically be pushed to the channels. When you receive bookings from the sales channels, they will automatically be inserted into Rentals United and Egluu. If you want to add a new property to Rentals United/Sales channels, you need to add it to Rentals United and inform Egluu.
Synchronisation Flow
Prices, availability, min nights: Egluu ➜ Rentals United ➜ Sales Channel
Reservations/Cancellations: Sales Channels ➜ Rentals United ➜ Egluu
How often is property info pushed/pulled from Egluu?
The following pieces of information are pushed from Egluu to RU and from RU to Egluu:
Seasonal price: instantly, every time a price is updated in Egluu
Calendar from Egluu/RU: instantly and max up to 5 minutes
New bookings: every 5 minutes
Get Started
Before you can start connecting your properties to our Sales channels, you need to fill out
My Profile

Company Profile

Payment Settings
In the upper right corner of your RU account, you will find a drop-down menu with My Profile, Company Profile, and Payment settings. Please fill out the required fields and Click on Save
For the Payment setting, Click on add Billing Method (if you have not already added this)
Due to security reasons, you will have to validate a certain amount taken from your account
Please select the correct currency (if your card is in EUR, you choose EUR, if it's in GBP, you choose GBP)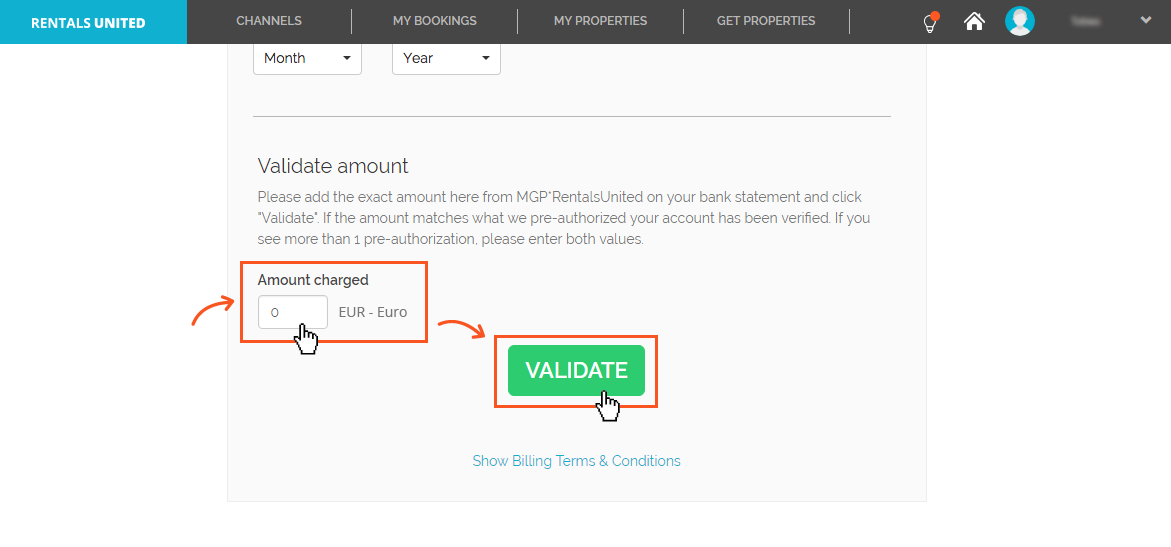 If you have any questions that we did not answer in the Help Centre, please submit your request/issue here