We are happy to have you on-board. You are not far away from being able to connect your properties to our selection of more than 50 sales channels!
Before you can start connecting your properties to our Sales channels, you need to fill out
My Profile

Company Profile

Payment Settings
In the upper right corner of your RU account, you will find a drop down menu with My Profile, Company Profile, and Payment settings. Please fill out the required fields and Click on Save
For the Payment setting, Click on add Billing Method (if you have not already added this)
Due to security reasons, you will have to validate a certain amount taken from your account
Please select the correct currency (if your card is in EUR, you choose EUR, if it's in GBP, you choose GBP)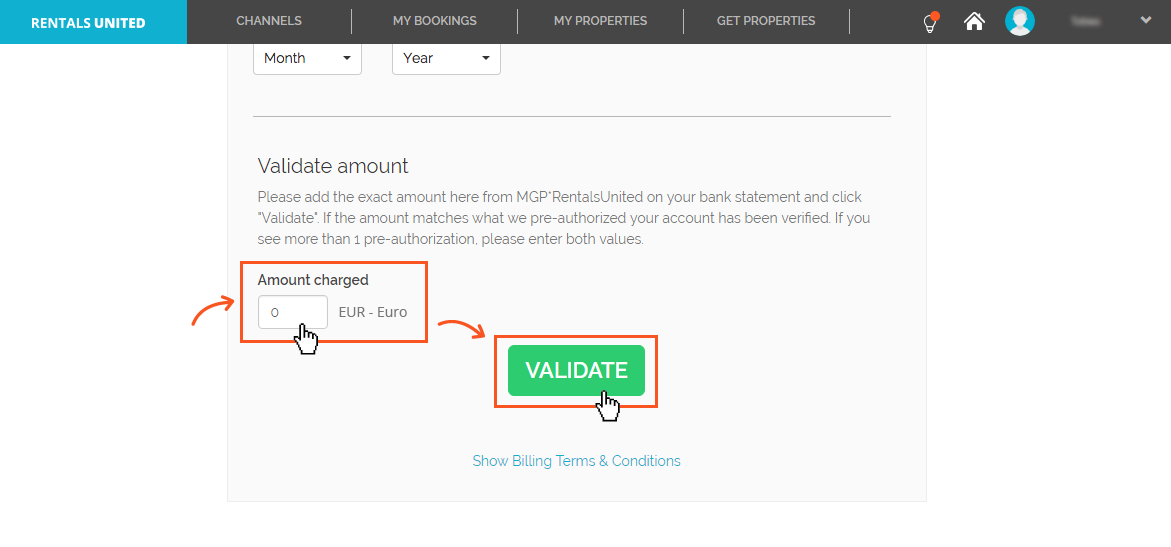 If you have any questions regarding this that we did not answer in the Help Centre, please submit your request/issue here.
Upload your properties
Go to Properties > Add a New Property and fill in the 7 steps. It's easy and fast - it will only take you 15 minutes!

Please add all the relevant information to your property and be as accurate as possible as this information will be transmitted to the sales channels of your preference.
On the photos step, please upload at least 10 images with the following minimum resolution: 1024 x 683 pixels.
Availability, Pricing and Extra Fees.
Step 5 is crucial as here you have to update your calendar, nightly rates, payments and fees.
Availability Update
The calendar can be updated by inserting existing bookings or simply blocking the dates. Choose the check-in and checkout dates, choose the status and add any other relevant info and then click SAVE. The dates will change colour in the calendar.
Pricing
Upload your rates and seasons manually. Insert the rates for a certain number of people or add base rates for 1-2 people and then choose a surcharge for each extra guest.
You can also check the Advanced Options for further features that may apply to your rates: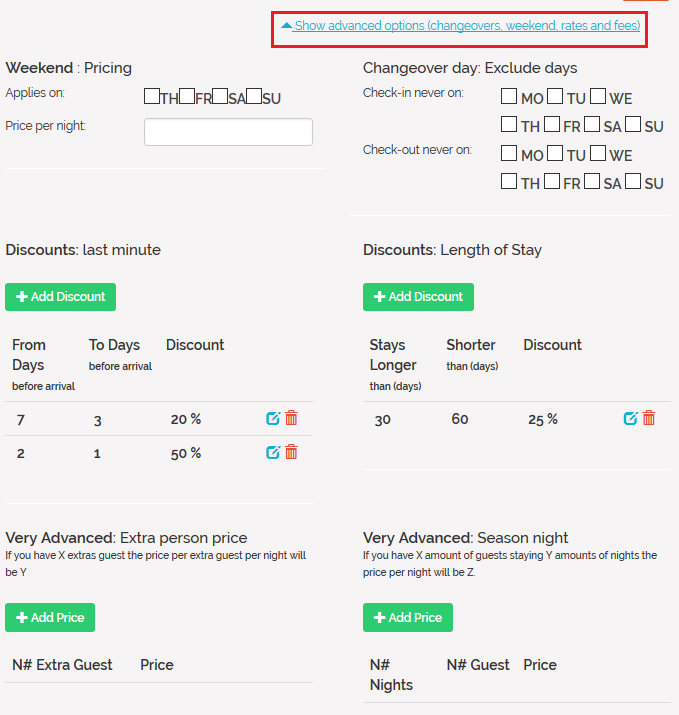 Extra Fees
The last field in this step is adding the Extra Fees. Please add Taxes, Extra Charges, Down Payment, Security Deposit and Cleaning Fee accordingly.
The last step is very important as it contains information regarding Payment Methods, Cancellation Policy, and Terms & Conditions.
Once you have inserted the information, click SAVE and successfully upload your property to Rentals United.
You can always go back to edit the property by going to the "Properties/Edit Properties" menu.
Once you are connected to the sales channels, any changes in the property information will automatically be pushed to the channels. When you receive bookings from the sales channels, they will automatically be inserted into Rentals United and block the calendars.
When you have added your properties, please see the section on how to connect to the sales channels
If you have any questions that we did not answer in the Help Centre, please submit your request/issue here