All of our clients who have manually uploaded their properties can use a pricing tool in Rentals United. Moreover, it is also possible for clients who use Push PMSes to use a pricing tool in RU.
A push PMS means a PMS that sends properties to Rentals United. If you are not sure how your PMS works, you can find out here.
What is a Pricing tool?
A pricing tool uses real-time market data to ensure your price recommendations maximise revenue and occupancy. Meaning your prices are accurate and competitive.
The two pricing engines that you can use in RU are PriceLabs and Beyond Pricing.
How to connect to PriceLabs:
The following actions need to be performed to connect your PriceLabs and Rentals United accounts.
Step 1 - In Rentals United:
In the next step, you will be taken to to PriceLabs Property Settings page. There, select the properties, for which prices should be managed by PriceLabs and click "Activate".
Step 2 - In PriceLabs:
Go to https://pricelabs.co and click "Sign in" to get into your PriceLabs account. If you do not have a PriceLabs account, click "Start your free trial" button and create an account.
Once logged in, you'll see a blue button on the top left that says "Connect to your Airbnb/PMS account". The button opens a popup that has different channels, channel managers (e.g., Rentals United) and property management systems that PriceLabs integrate with.
Select "Rentals United" and provide your Rentals United username when asked for it.
Rentals United and PriceLabs accounts will be connected and your properties will be retrieved from Rentals United into PriceLabs. This process may take a couple minutes.
Daily Prices and LOS Pricing will be synchronised from PriceLabs.
Important: Please note, that you need to manually perform synchronisation in PriceLabs (click "Connect to your Airbnb/PMS account") every time you activate or de-activate connection for properties in Rentals United.
Activation
Connection between PriceLabs and Rentals United becomes active as soon as you click "Activate" in Rentals United and import properties into PriceLabs.
In case you wish to stop the connection for one or more properties, simply go to PriceLabs Property Settings page and hit "Deactivate". PriceLabs will no longer update your prices in Rentas United.
How to connect to Beyond Pricing:
The connection with Beyond Pricing is configured in Rentals United.
Only Daily Prices will be synchronised from Beyond Pricing. The update takes place every hour.
Extra Guest price and minimum stay are not synchronised. The reason being that if properties are priced correctly for each night, it will result in longer stay reservations.
For PMS Users: please note that the pricing synchronised from Beyond Pricing will overwrite the prices synchronised from your PMS.
To connect Beyond Pricing, you will need an API Key. If you do not have this API Key, generate one here:

https://beyondpricing.com/user/tokens
In your Rentals United account, go to Services > Yield Managers, add Beyond Pricing and follow the checklist. You will be asked to insert your Beyond Pricing API Key so that Rentals United can access the properties in Beyond Pricing.
Your properties in Rentals United need to be connected to your properties in Beyond Pricing. It is mandatory to ensure that this property mapping between the two systems is 100% correct.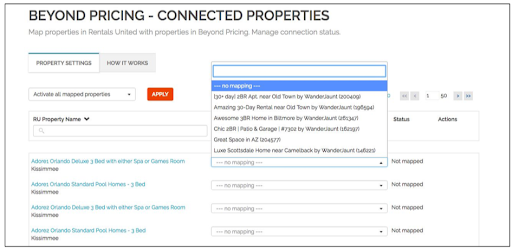 Activate Beyond Pricing with Rentals United
Once you have linked your Rentals United and Beyond Pricing properties, you will start receiving prices from Beyond Pricing by clicking on the "Activate" link.
In order to stop receiving these prices or make changes to the property Mapping, please click on the "Deactivate" link.