Import from Airbnb is a new feature of Rentals United platform. Its purpose is to speed up onboarding of manual clients, who have been already working with Airbnb before signing up with Rentals United. It also allows clients who have already connected to Airbnb via Rentals United for a limited number of properties to import additional properties from Airbnb and start managing them from Rentals United.
If you would like to import properties from Airbnb, please follow the instructions below:
You are not yet connected to Airbnb on Rentals United:
New clients who completed the sign up process and approach the account configuration can choose to import their properties from the below screen: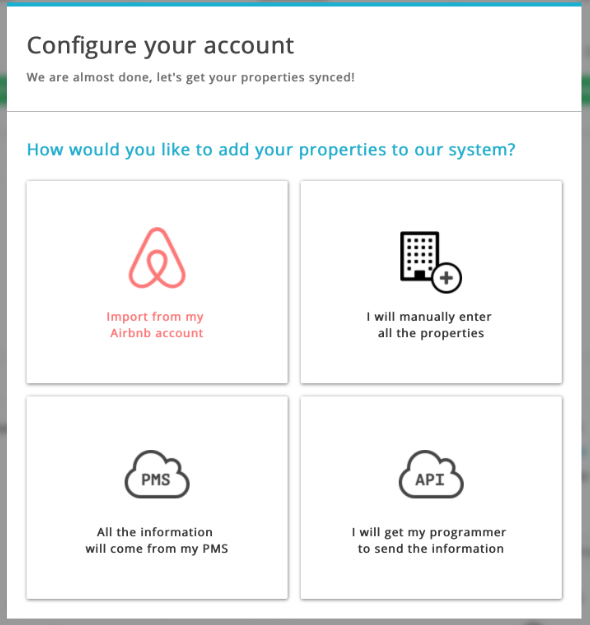 When you select "Import from my Airbnb account" option, they will see the below screen:
1. Click the 'I UNDERSTAND, IMPORT PROPERTIES NOW' button and you will be transferred to Airbnb: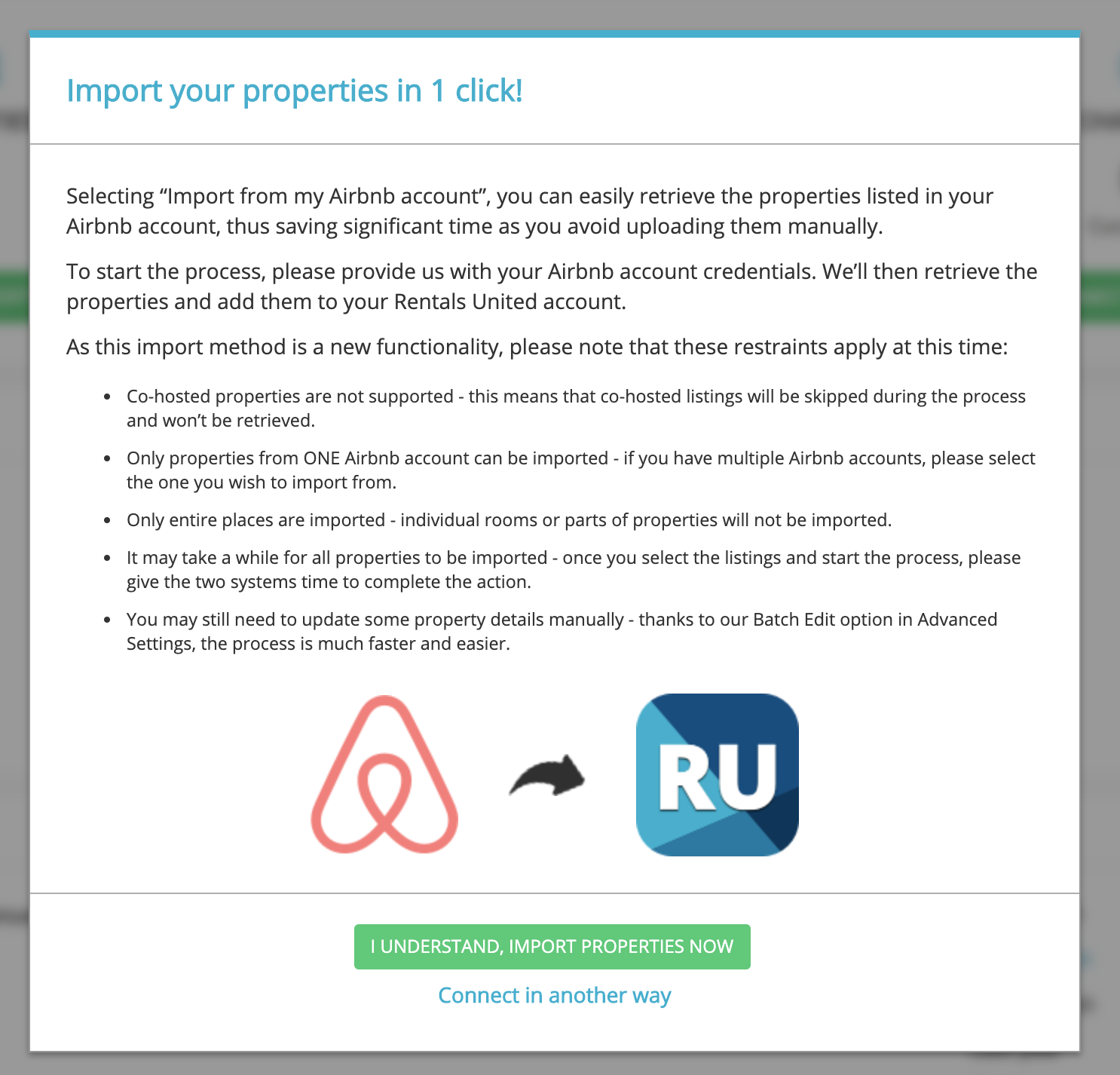 2. Log in your Airbnb account and see a screen informing you that Rentals United wants to have access to your Airbnb account and what actions Rentals United will be able to perform when access is granted.
3. Confirm you understand and grants access for Rentals United.
4. You will be taken back to Rentals United.
5. You will be presented with a property selection box and you will have to select the properties you want to import from Airbnb into Rentals United. Please note, that if your Airbnb account has more properties than your RU billing plan allows, you will be prompted to upgrade your Rentals United billing plan.
6. Upon completing property selection initiating import, you will be taken to 'My Properties' where you will see the list of your Airbnb properties with information that import is in progress.
7. Rentals United will perform a set of API calls to Airbnb in order to retrieve property data. It may take a while for the process to finish.
8. When completed, there are two options:
Properties get successfully imported into Rentals United and you will just need to add some details.

Properties fail to import - In that case, an email will be sent to you to start the process from scratch.
You are already connected to Airbnb on Rentals United:
In case you are already managing your Airbnb properties using Rentals United as a channel manager, you can access this feature by clicking the 'Import from Airbnb' button from My Properties page:
You will be presented with a pop-up allowing you to import properties from the Airbnb account you already have connected to Rentals United or add a new one:
If you select that you want to use a new one, you will go through the authentication process again, and that Airbnb account will also show up in your Airbnb Account Settings in Rentals United automatically. In case of selecting an already connected account, the authentication process is not necessary.
Limitations
Co-hosted properties are not supported.

Unlisted properties are not supported.

Only entire places are imported - individual rooms or parts of properties will not be imported.

It may take a while for all properties to get imported into Rentals United.

Not 100% of property data is pulled from Airbnb - e.g. Payment methods are not retrieved (mostly because Airbnb charges for the hosts and does not need them, so we cannot retrieve them). You need to review your properties in 'My Properties' page to see if they are ready to be connected to sales channels.
Once the properties are retrieved into RU you can proceed with channel connections.
In case you have imported your properties from Airbnb, your account will now be already connected to Airbnb for sales channel connection. Once the 'Allow access' link is clicked, your Airbnb account should be already visible in Airbnb Account Settings in RU.
If you have any doubts or experience any issue when performing this action, please do not hesitate to contact us through our Support Form.