What are the Opportunities?
Booking.com Opportunities provide you with advice about how to improve your product offering in Booking.com. It works in the same way as the Opportunities tab in your Booking.com Extranet, by showing you pieces of advice so that you can then act on them.
How to access them?
In your Booking.com Extranet you can access them by visiting the Opportunities tab:
In Rentals United, Booking.com Opportunities are accessed by logging into Rentals United and going to Services -> My Services -> Booking.com -> Opportunities
Once you are on that page, Rentals United will retrieve currently existing Opportunities for all your properties and present them by property in a form of a list.
Opportunities are retrieved in the same language used in Rentals United.
Each Opportunity features a title, a description and a call to action.
Depending on the number of listings in Booking.com, the retrieval time may vary and sometimes take a while.
What types of Opportunities are there?
There are two major types of Opportunities:
Opportunities actioned directly via Rentals United - these can be identified by an "Implement this Opportunity" button next to them. Once you click on this button and confirm that you want to activate it, the property data in Booking.com will be altered with the selected Opportunity right away.

Opportunities requiring a visit at the Booking.com Extranet - these can be identified by an "Activate through Booking.com" button next to them. You will be redirected to Booking.com Extranet where you will be able to finalise Opportunity implementation.
Here's an example of the page where you land in Booking.com when you click "Activate through Booking.com" button: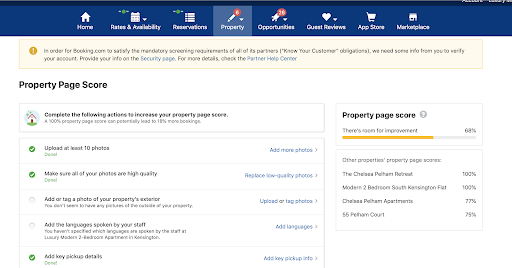 Once the Opportunity is actioned, implemented or dismissed, it will no longer be returned by the channel and will disappear from Rentals United as well.