Go to www.airbnb.com -> become a host -> follow the step by step to create the account and setup the profile. Once you get to the step to start creating your listings, you can stop. There is no need to create the listings manually on Airbnb since they will be pushed from Rentals United.
Click on the host photo at the top right hand corner and click Account
Here you will need to complete the setup of your account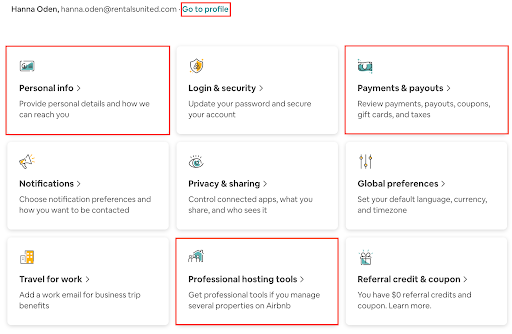 Go to profile -> Ensure host photo has been added
Personal info -> Add all details here, ensure phone number and email has been verified with a pin code verification
Payments & Payouts -> Payouts -> Add payout method
Payments & Payouts -> Taxes -> Add tax information
Professional hosting tools -> toggle on email sharing (article here)
Professional hosting tools -> manage next to company -> Enable professional hosting tools and Verify host account, you will be prompted to complete your company details, complete all fields.
Once the Airbnb is fully setup, you can follow these steps to connect the account to Rentals United and push properties to the account.